Overview
East Sussex County Council (ESCC) is developing a range of schemes across the county that both reflect our Local Transport Plan objectives of creating safer, more sustainable communities and which align with the Government's commitment to encouraging more active travel. These will be delivered through our ongoing capital programme for local transport improvements.
We are currently looking to take forward a number of new cycle routes in Eastbourne which will extend and improve the current network in the town.
These proposed routes were identified either through the Eastbourne Cycling Strategy jointly developed by the County Council and Eastbourne Borough Council in 2012, or more recently through our draft Local Cycling and Walking Infrastructure Plan (LCWIP).
We have secured funding to progress a number of these cycle routes, including Local Growth Fund monies through the South East Local Enterprise Partnership.
Consideration of recent Department for Transport Guidance
We are very much aware of the recent Department for Transport (DfT) guidance on cycle infrastructure design  (LTN 1/20) published in July 2020. It is recognised that this local transport note has proposed a step-change in the approach to the planning and development of cycle infrastructure and this will be a tool that will be used for developing future cycle infrastructure projects. 
At the time of the publication of the new guidance all the routes that we are now consulting on had been substantially developed. We therefore recognise that the proposals may not fully achieve all of the core design principles set out in LTN1/20. However the design process has been subject to rigorous assessments that seek to ensure that cyclists have the highest level of provision possible, whilst also considering other road users.
In partnership with East Sussex Highways, ESCC has developed preliminary designs for the following five cycle routes within Eastbourne and is now seeking your feedback on these schemes.
Please click image to enlarge.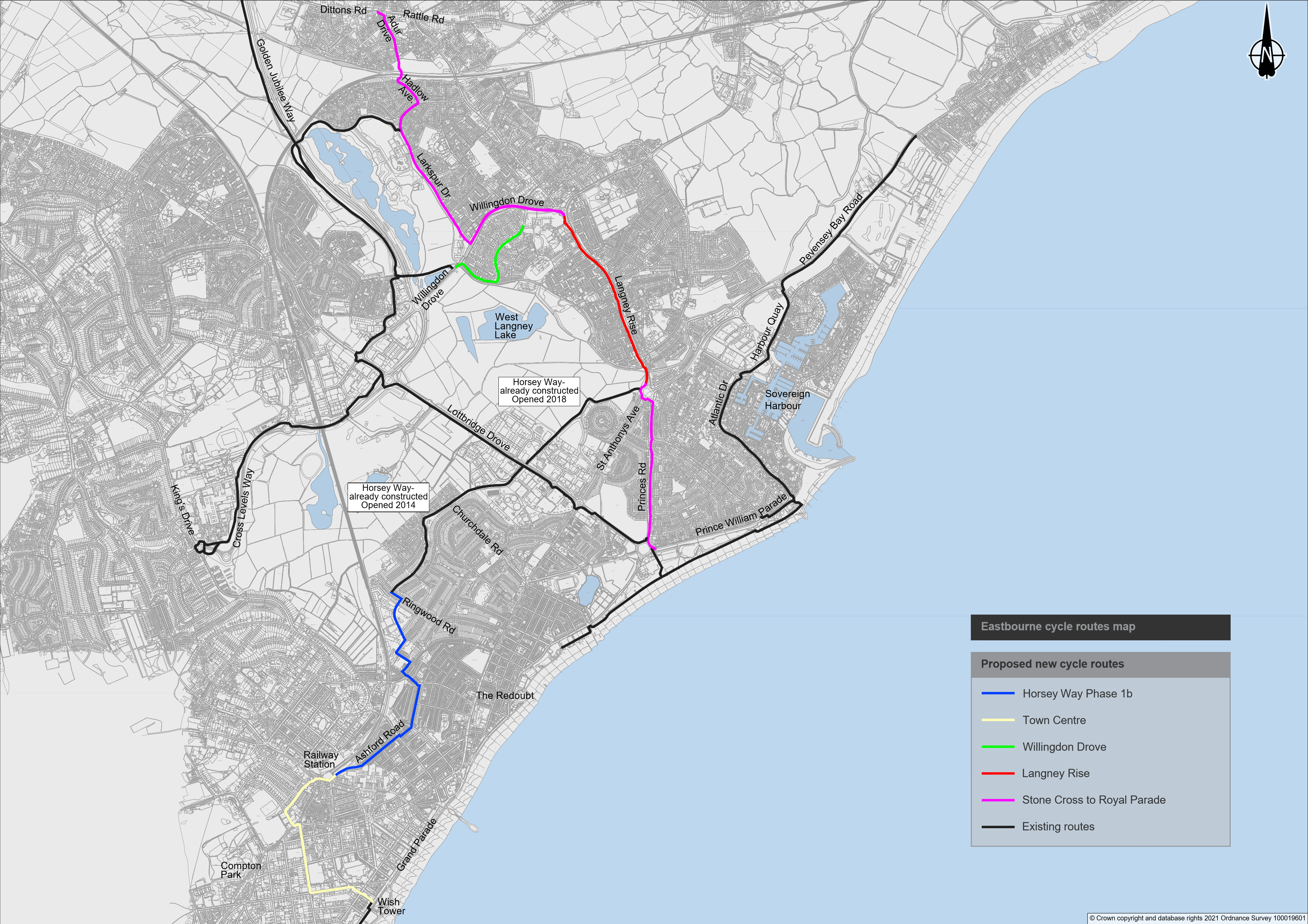 Why your views matter
The purpose of this key stakeholder engagement exercise is to seek your views on a number of aspects of the five proposals. Subject to the feedback received, we propose to undertake a public consultation exercise with a view to implementing each project over the next two to three years.