Welcome to the East Sussex Have your Say Hub.
We're committed to involving people in decisions that affect them, and value their input in planning, delivering and evaluating services.
Opportunities to give us your views are included below. You can search for consultations by keyword, postcode, interest etc. You can also see how previous feedback has influenced our decision making process and what has happened as an outcome.
The results of consultations that were carried out before April 2013 are available on request.
If you would like information on any of our consultations in another format, including paper copies, please contact us:
email: haveyoursay@eastsussex.gov.uk
telephone: 01273 481503.
For more ways to have your say including petitions, council meetings, or by joining one of our forums, groups and panels, please visit our consultation page.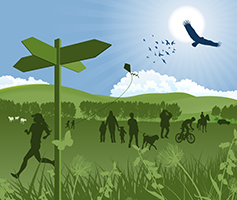 Give us your views on our future plan for public rights of way and countryside sites
Consultation ends in 58 days (29/07/2016)
We Asked, You Said, We Did
Below are some of the issues we have recently consulted on and their outcomes.
We Asked:

For views on the proposed admission arrangements to Community and Controlled Schools for the 2017/18 school year. The main changes were

To restrict the application of the sibling link so that children living within the community area for a given school are a higher priority than siblings living outside the community area;
To change the measurement of the home to school distance tie-break from shortest walking route to straight line;
To allow applications received after the closing date due to verified house move or other material change of circumstances to be treated as on time if received before a second deadline.

You Said:

79 people completed the survey.

44% of respondents were in favour of the change to the sibling criteria.

Concerns were largely around the difficulties of transporting two children to different schools at the same time of day, and the need for siblings to support one another in the same school, whereas those in favour of the proposal felt that it was fair to prioritise local residents ahead of out of area siblings.

71% of respondents were in favour of the change to the tie-break measurement

The majority felt the new distance measurement would make it easier to estimate the chance is getting into a preferred school.  

Regarding how applications after the closing date are treated, we simply asked for comments on this.  There was a consensus that the proposal was child-centred and sensible.

We Did:

The changes were agreed and will come into force for September 2017 onwards.

An amendment was made to the sibling criteria rule which made an allowance for parents previously unable to secure a preferred school. The new policy will include the following;

'where a child has been unable to secure a place at a school in his/her community area and has been directed to attend a school outside the area as an alternative, any applications for younger siblings to attend the school will be treated as if the family were resident in the community area, as long as the sibling will still be attending the school when the younger child starts.'
We Asked:

What you thought of our plan to ask people who can afford it to pay for the community support service.

You Said:

You told us you need more time to prepare. You also wanted to know what would happen if a session was cancelled and whether people could pay less for group support in the community. 

We Did:

We were planning to ask people to pay from April 2016. Now, if you have to pay, we will ask you to start paying in July 2016 instead of April 2016. We have sent everyone who uses the service a copy of the cancellation policy that will apply from July 2016. We agreed that people should pay less for group support in the community. We have set a lower cost for group support.
We Asked:

We wanted your views on how we were proposing to make the savings in Adult Social Care. 

You Said:

The vast majority of people who responded to the consultation were concerned about the long-term harm that would be caused to people and the services that support them.

 

We Did:

Following the consultation, the proposed savings were amended to take account of the additional money that would be raised by the social care precept for Council Tax and what people told us through the consultation. For some services this meant not going ahead with the saving or revising the amount we were planning to save.
During the consultation process, we ask for your feedback, you tell us and then we make positive changes. Public participation is key to our work. See what happens with We Asked, You Said, We Did.