Overview
Through the Eastbourne Town Centre Movement and Access Package, East Sussex County Council and Eastbourne Borough Council are working together to enhance and promote the vitality of the town centre. The ongoing project aims to improve Eastbourne Town Centre by reducing the amount of through-traffic, providing more space for people through the completion of a pedestrian spinal route through the town centre, creating new public spaces and enhancing the existing pedestrian environment at key locations.
Between Monday 10 October and Sunday 20 November, we are collecting your feedback and ideas about our Eastbourne Town Centre Movement and Access Package Phase 2b proposals.
Phase 2b includes pedestrianising Terminus Road from Seaside Road to Grand Parade. As well as this, we are also consulting on proposed improvements for pedestrians at Memorial Roundabout in the town centre and the proposed relocation of part of the town centre Ring Road.
We would like to hear your views about what we are proposing. Please take a moment to download and read our consultation brochure and complete the online survey. 
The objectives for Phase 2b of the Eastbourne Town Centre Movement and Access Package are to:
Deliver improvements which support and complement changes made in Phase 1 and Phase 2a of the Eastbourne Town Centre Movement and Access Package.

Improve pedestrian safety and accessibility (ease of movement for vulnerable users, parents or carers with pushchairs etc.) by reallocating road space in the section of Terminus Road between Seaside Road and Grand Parade to pedestrians.

Complete the pedestrian spinal route on Terminus Road through the primary retail area of Eastbourne town centre to the seafront.

Improve the public realm within the town centre by upgrading street furniture and signage.

Relocate the Ring Road to reduce town centre through-traffic and create a greater sense of arrival in Eastbourne.

Improve pedestrian priority and safety at Memorial Roundabout through changes to kerb lines and new zebra crossing points that will aid pedestrian movement throughout the town centre and reduce vehicle speeds.
Our consultation brochure explains in detail the proposed elements of the scheme. We also provide details of how you can give us your feedback during our public consultation.
Phase 2b proposals
Phase 2b of the Eastbourne Town Centre Movement and Access Package seeks to improve access into and around Eastbourne town centre, with a particular focus on improving the pedestrian experience and enhancing the public realm. This will support housing, retail, and business growth in the town centre. The three elements being consulted on are:
Pedestrianisation and enhancement of Terminus Road

Pedestrian improvements at Memorial Roundabout

Relocation of part of the town centre Ring Road
Terminus Road
The central component of Phase 2b is the full pedestrianisation of a 200m stretch of Terminus Road from Seaside Road to Grand Parade, known as Victoria Place, and to enhance the existing pedestrianised section of Terminus Road between Langney Road and Seaside Road.
This will complete a pedestrian spinal route from the railway station through to the core retail area and then to the seafront.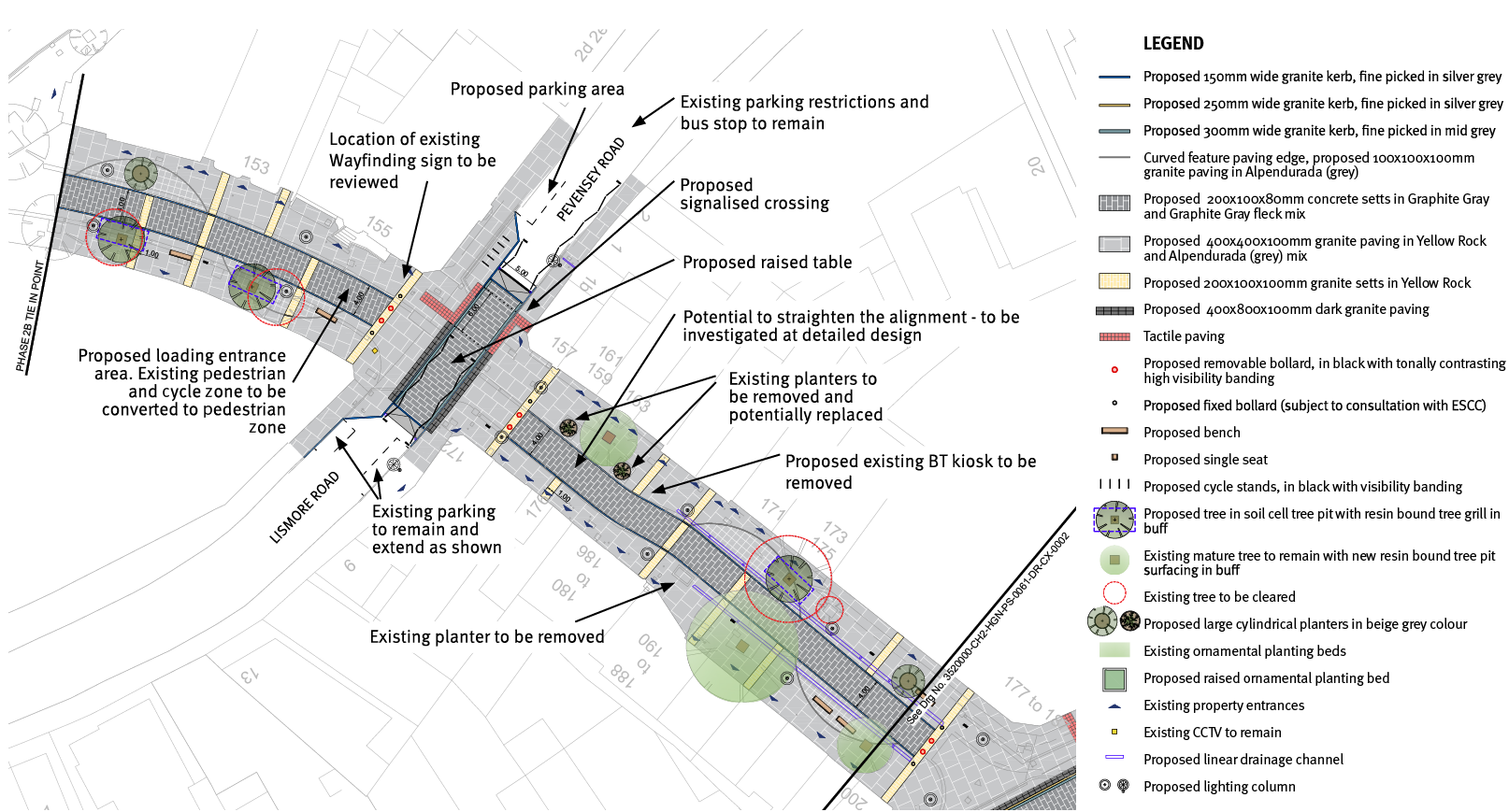 Memorial Roundabout
The proposed improvements to Memorial Roundabout include adding new zebra crossing points on all arms of the roundabout and increasing pedestrian space. By doing this, we aim to slow down traffic on the approach to and from the town centre and improve pedestrian priority, safety, and accessibility. Reduced traffic speeds in this area will also benefit cyclists navigating the roundabout.
Our designs include a number of raised zebra crossings, which combine traffic calming measures (flat-top hump) with pedestrian crossings, encouraging drivers to lower speeds where pedestrians are crossing enhancing the safety for pedestrians.
Each arm will have a raised zebra crossing with tactile paving to assist people who are visually impaired as well as other proposed improvements.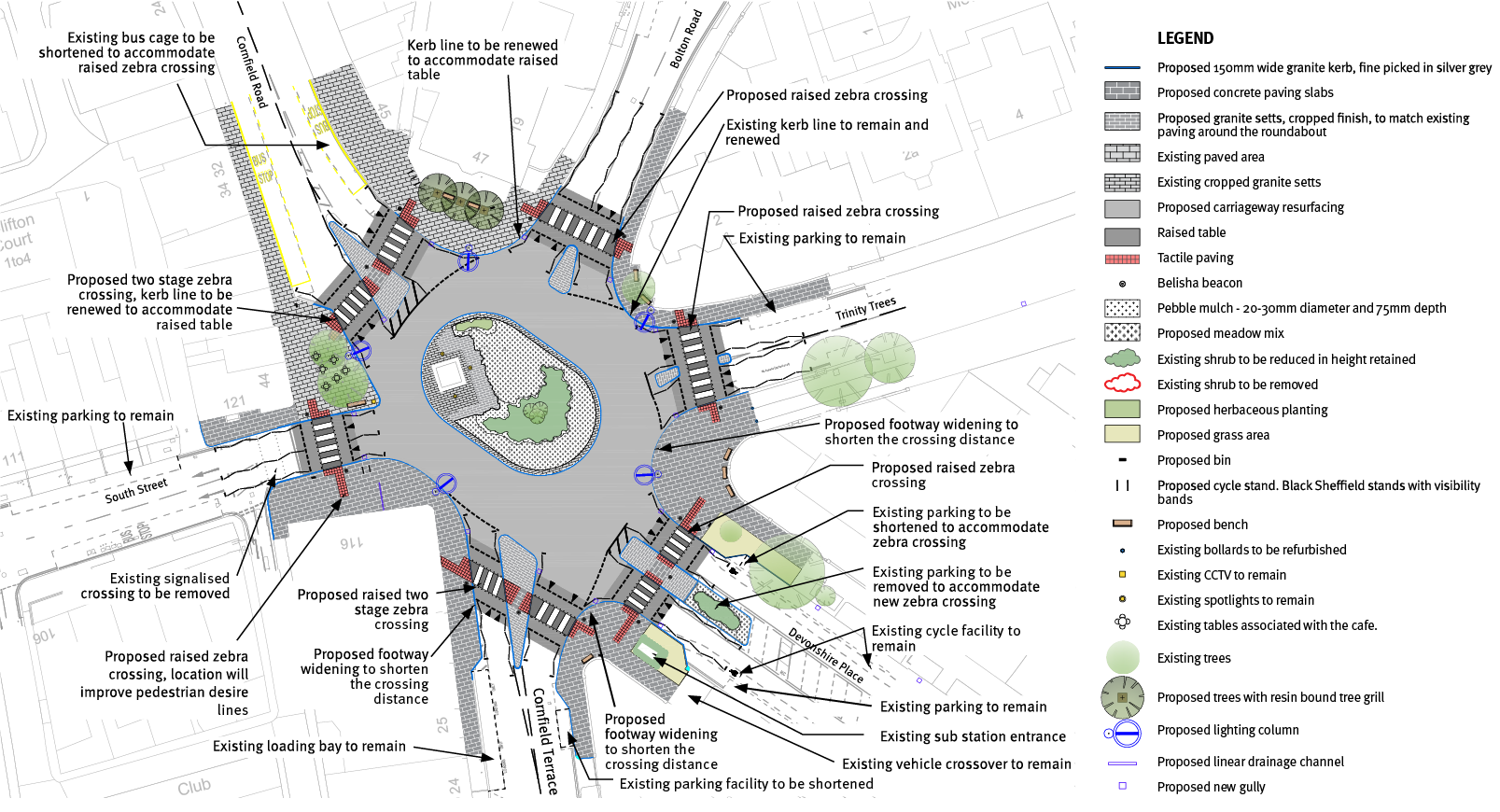 Ring Road
The existing Ring Road in the town centre runs along Ashford Road, Susans Road, Lismore Road, Bolton Road, South Street and Gildredge Road. To complement the proposed Terminus Road improvements, we are proposing to relocate the Ashford Road and Susans Road sections of the current Ring Road route further outside the town centre area, along the A2040 The Avenue, Upper Avenue and Cavendish Place.
By doing so, it will:
Improve pedestrian priority and space in the town centre

Create a greater sense of arrival for vehicular traffic into the town

Provide potential opportunities for further walking and cycling improvements in the future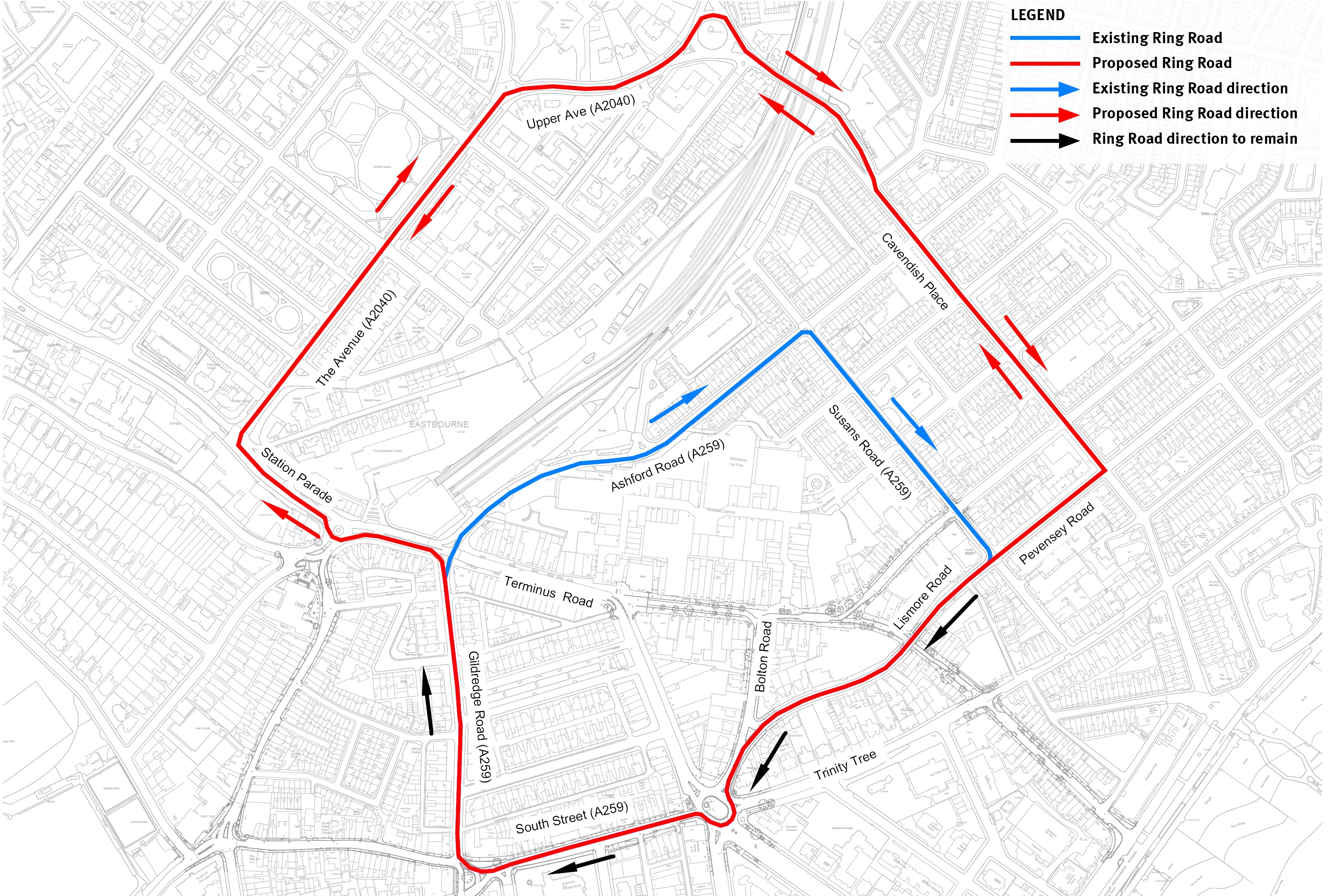 Find out more and have your say
Here are other ways you can get information about our proposals.
Public consultation events
During the consultation period, we will be holding three in-person public consultation events where you can find out more about the proposed schemes and speak to members of the project team. You will find dates, venues and times listed in the Events section at the bottom of this page.
Please note that 2/3 of our venues are fully accessible with wheelchair access and disabled facilities. However, parts of the Enterprise Shopping Centre have no step-free access. We will ensure that consultation materials are available on the ground floor. However, where possible,  we recommend that people with mobility issues attend the consultation events at the Town Hall or Gather space in the Beacon Shopping Centre.
Where to get a printed copy of our consultation brochure
You can pick up a printed copy of our consultation brochure at these locations: 
Eastbourne Library, Grove Road, BN21 4TL

Eastbourne Town Hall, Grove Road, BN21 4TX

Eastbourne Citizens Advice Bureau, 8 St Leonard's Road, BN21 3UH

Eastbourne Age Concern, The William and Patricia Venton Centre, Junction Road, BN21 3QY

Seafront Office,

6 Lower Grand Parade, Eastbourne BN21 3AD
How to respond
You can respond to the consultation by following the link to the consultation survey.
You can also reply by email to Eastbournephase2b@eastsussex.gov.uk
Alternatively, you can complete a paper copy of the consultation survey, which can be found at the back of the consultation brochure. Please return it using our freepost address. There is no need for a stamp.
Our freepost address (case sensitive) is:
Freepost RTRE-EZCK-ESAZ
ETCMAP Phase 2b
West B
East Sussex County Council
County Hall
St Annes Crescent
LEWES
BN7 1UE